In the Fall semester of 2016, also my fifth and final year of school, I was on my last co-op (internship) in Cincinnati working at Rookwood Pottery. It was a really important semester for me. Cincinnati felt (almost) like home, steadily and sneakily wiggling its way into my heart and to the top of my list of favorite places. I felt really valuable at work, and I was spending the rest of my time cooking, taking care of myself, and drawing and painting more than I had in a really long time. While all of this goodness and creative energy was welling up in my body and brain, a tiny whisper reminding me that soon this chapter of life would be coming to an end was growing louder and louder. Soon I would be graduating from the forever summer camp that is DAAP. I would be leaving the part of my life when all these incredible weirdos (my friends) would be living and making together in the same city (even if for only four months at a time).
I am increasingly grateful for my strange, incredibly smart, and creative friends. While I was riding my creative wave, a lot of these folks were getting into similar rhythms, and we were all sharing our work with each other through Instagram, because that's how you talk to your friends as twenty-somethings. While encouraging my pals with a deluge of flames, heart eyes, and sparkle emojis, I thought about how cool it could be to make some analog, physical art with this special group of people.
Most of my friends were spread out across the country working at various co-ops for the semester, and this presented a challenge for collaborating. Snail mail was (is always) the solution. I gathered a group of interested pals and divided them into four lists. Each list had a sketchbook, and each sketchbook would travel from person to person, filling as it journeyed from San Francisco, to Brooklyn, to Dallas, to Seattle, and eventually back to me in Cincinnati.
It took more than one semester, but eventually all of the sketchbooks finally made their ways back to me. Slowly and carefully I paged through each one, catching little anonymous glimpses into the daily lives of my friends from miles and miles away.
We kept in touch about the whereabouts of the books through a Facebook group that I made to deliver instructions and post updates for the participants to see. It made me feel really warm and fuzzy to see that people were wondering about the books after they had passed through their hands.
Some people wrote notes to each other, some collaborated on drawings, and some asked questions that went unanswered. We experienced a gut-punching election, and we made some art about it. We collected leaves, and tickets, and cut-outs from magazines. We drew from life, we drew like designers, and we drew like little kids. We left many things unfinished. I learned that we have many differences in our dictionaries, I learned that not everyone is inclined to draw/collage/write on top of the work of others, I learned that JP's grandma used to read him Peter Rabbit, and I learned that some of my friends are terribly inept at utilizing the U.S. Postal Service. Collectively, the results of our experiment are not museum-worthy or award-winning or ground breaking, but they're a pretty special time capsule of a disparate yet collective experience of friendship and life as twenty-somethings.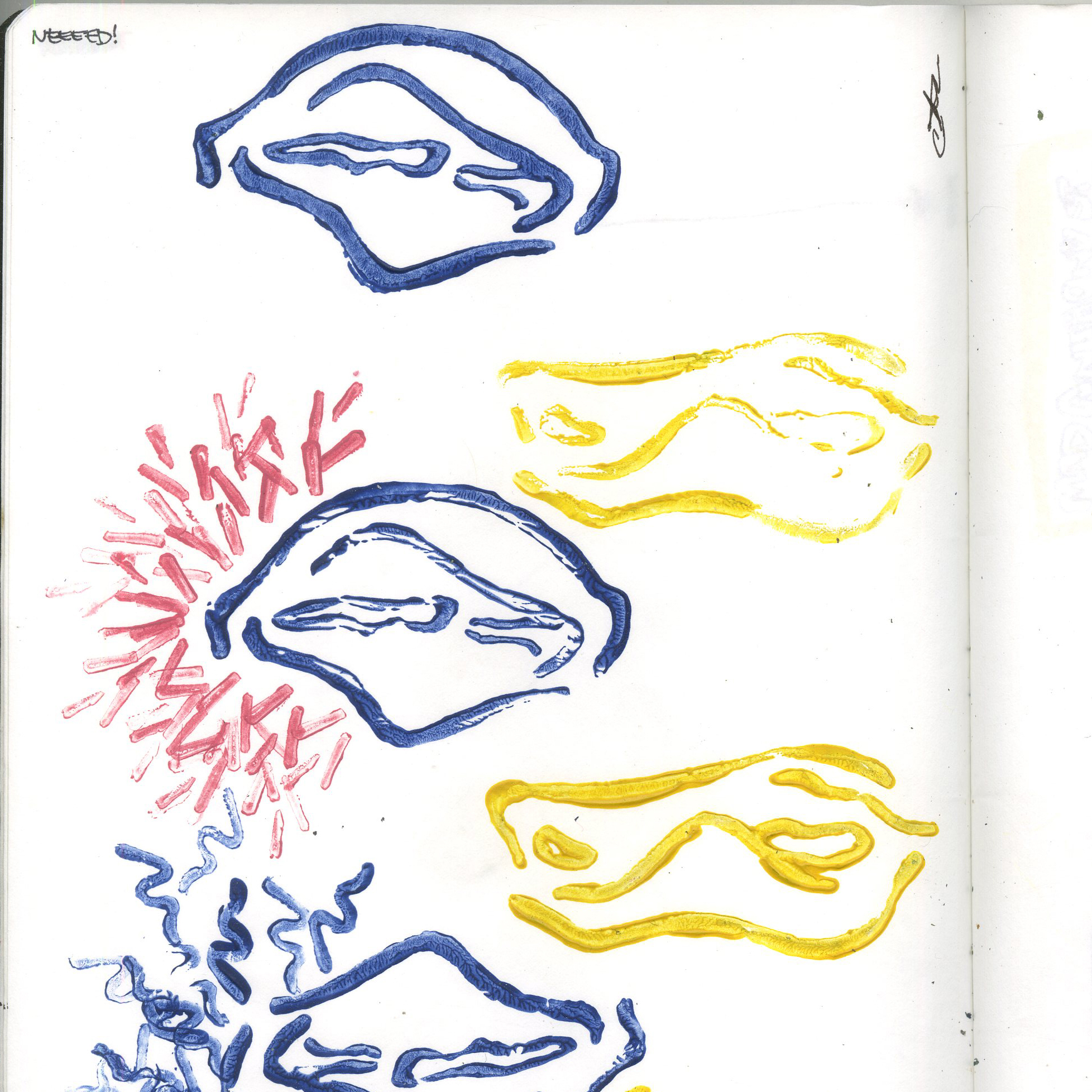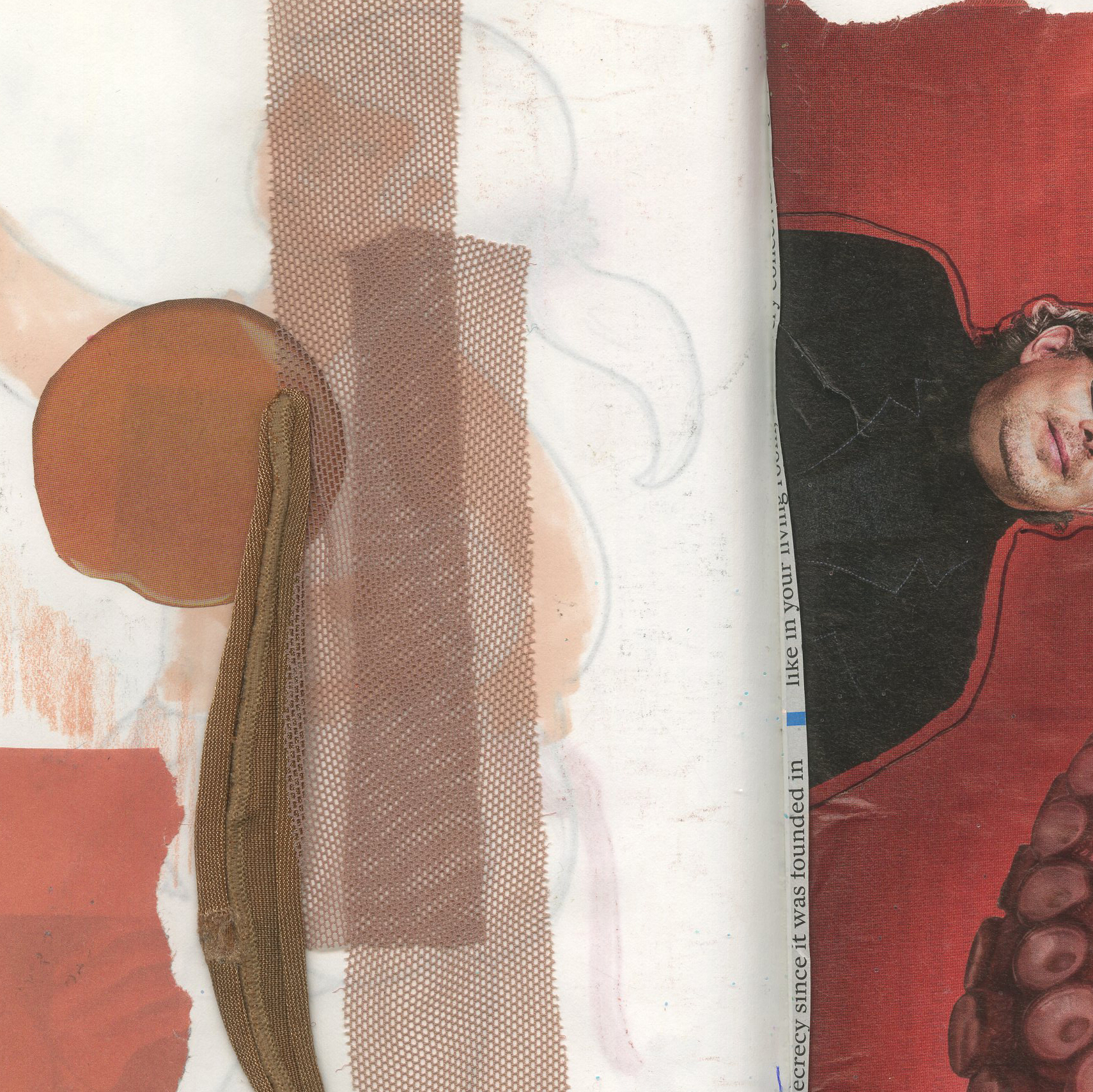 Thank you to all the sketchbook experiment contributors: Kateri Ang, Michelle Baverman, Joel Beeby, Alex Bowman, Terah Coleman, Paul DuFour, Joseph Frankl, James Gall, Maddie George, Chloe Georgiades, Karyn Georgilis, Taylor Gittings, Casey Harmon, Emily Harper, Rachel Hess, Mark Liston, Alex Lohmann, Ayla London, Ian Malott, Ian McGillivray, Jia Lu Ni, Rachael Polack, Julianna Probst, JP Schmitz, Shelby Wauligman, Jocelyn Williams, Bryce Wong, and Halie Zulch.
Sketchbook 1
Sketchbook 4*
*Still on its journey, apologies!